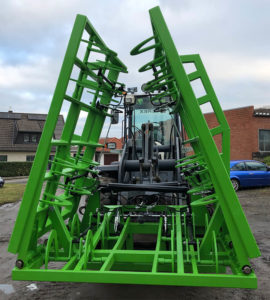 Balehunter
Square bale folding pliers – Made in Germany
With our square bale folding pliers, up to 6 square bales can be collected quickly and efficiently and loaded or unloaded onto a vehicle.
The bale clamp consists of a very stable snap frame. This enables easy transportation on the road.
The square bales can be gripped individually or all at the same time in the longitudinal direction.
Each square bale is held securely by 4 special hooks made of quality steel.
The 6 bales are then pulled firmly to the frame by a total of 24 hooks and enable fast and safe work.
Made entirely of S355 quality steel to ensure a long shelf life.
Production in Germany
Due to its size, the bale grab can only be used on a correspondingly heavy wheel loader.
Our recommendation from 16t operating weight.
Benefits
enables the square bales to be picked up very quickly and efficiently, which would otherwise require several vehicles.
Thanks to special hydraulic valves on the bale clamp, it is possible to grip the bales individually and then put all 6 bales down at the same time.
Small transport width can be easily and quickly folded over 2 cylinders.
Technical specification
| Width | 690 cm |
| --- | --- |
| Width folded up | 240 cm |
| Length | 2050 cm (excl. Admission) |
| Height folded up | 305 cm |
| Weight approx. | 2400 kg |
| Volume hydraulic circuit approx. | 10-12 l |
| Max. Load of 6 square bales (LxWxH) | 240x120x90 cm |
| Max. Hydraulic oil pressure | 180 bar |
Square bale gripping fork
With our square bale gripping fork with 12 hooks and 3 tines 3 – 4 square bales can be safely stacked and transported.
The 12 hooks firmly grip the bales via a cylinder with a lifting capacity of 7 tons.
The hydraulic circuit of the gripping fork is connected to the hydraulic system of the working machine with 2 hydraulic hoses.
Suitable for square bales of all formats.
The 3 bale tines and 12 hooks pick up the bales safely.
Completely made of S355 quality steel with reinforcements in the corners to guarantee a long durability.
Coupling hook or mounting bracket are available for all vehicles.
Production in Germany.
Advantages
All bales are gripped and held tightly and securely to the frame.
The special hooks made of 15mm quality steel turn deep into the bales and press the bales firmly to the main frame.
The square bales can't fall off due to the hooks, even if you tilt the gripping fork forward.
The 3 tines at the bottom of the gripper fork hold the bottom bale securely.
Technical specifications
| Width | 170 cm |
| --- | --- |
| Height | 245 cm |
| Weight | 480 kg |
| Volume hydraulic circuit approx. | 3 l |
| Max. Load | 3 bales (LxWxH) 240x120x90 cm or 4 bales (LxWxH) 240x120x70 cm |
| Max. Hydraulic oil pressure | 180 bar |
We have piqued your interest? Inquire now without obligation: